14 Oct

Scratch – the visual programming language

Scratch is a free visual programming language. Scratch is used by students, scholars, teachers, and parents to easily create animations, games, etc. and provide a stepping stone to the more advanced world of computer programming. It can also be used for a range of educational and entertainment constructionist purposes from math and science projects, including simulations and visualizations of experiments, recording lectures with animated presentations, to social sciences animated stories, and interactive art and music. Viewing the existing projects available on the Scratch website, or modifying and testing any modification without saving it requires no online registration.
With Scratch, kids can program their own interactive stories, games, and animations — and share your creations with others in the online community. Scratch helps young people learn to think creatively, reason systematically, and work collaboratively — essential skills for life in the 21st century. Scratch is a project of the Lifelong Kindergarten Group at the MIT Media Lab. It is provided free of charge.
Scratch is designed especially for ages 8 to 16, but is used by people of all ages. Millions of people are creating Scratch projects in a wide variety of settings, including homes, schools, museums, libraries, and community centers. Scratch is used in more than 150 different countries and available in more than 40 languages. To change languages, click the menu at the bottom of the page. Or, in the Project Editor, click the globe at the top of the page.
With the Scratch offline editor childrens could create projects without joining or accessing the online community. Visit the Scratch 2.0 offline editor download page for instructions on how to install it on your computer.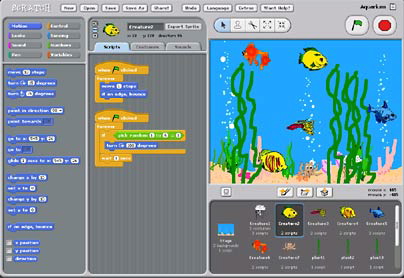 Teaching effectiveness
9.1