18 Dec

Lightbot – Solve Puzzles using Programming Logic

Lightbot is a programming puzzle game; it uses game mechanics that are firmly rooted in programming concepts. Lightbot lets players gain a practical understanding of basic concepts like instruction sequencing, procedures and loops, just by guiding a robot to light up tiles and solve levels.
Teachers worldwide are choosing Lightbot first when introducing their students to programming.
This programming app was developed for kids by an undergraduate student who's been coding since he was a kid himself. Brief instructions are included at the beginning of each level — what you need to know when you need to know it. The level of challenge ramps up very quickly, making this best-suited for older kids and teens.
The goal of Lightbot is to command a little robot to navigate a maze and turn on lights. Players arrange symbols on the screen to command the robot to walk, turn, jump, switch on a light and so on. The maze and the list of symbols become more complicated as the lessons progress. While using such commands, players learn programming concepts like loops, procedures and more, without entering code in any programming language.  Using sequential commands, students create simple programs to direct their Lightbot (Girlbot or Boybot) through a 3-dimensional grid on their mission to 'light up' the world of tiles. With no explicit coding required and a fun and tactile interface, Lightbot is an excellent starting point to get your class on the path to programming.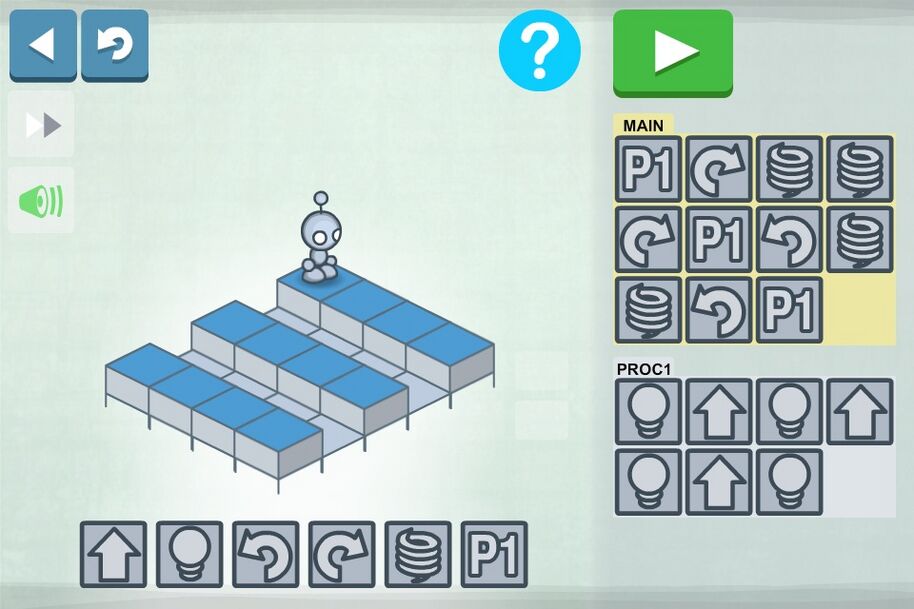 The app has two version for children of different ages – Ligthbot for 9+ and Lightbot junior for  ages 4-8.
The price is 2.99 USD and a free Hour of Code version available.
Teaching effectiveness
6.9